BIO
Just Who Are These Guys?
If you have been to a SonicSoul show, then you know these three guys are monster musicians who love playing music and deliver an inspired musical experience. SonicSoul is an independent, avante-guard blues band that pays homage to the past while creating a sound that is uniquely their own. The SonicSoul Band blends elements of rock, jazz, and R&B into their blues to serve up a musical gumbo that is mighty tasty and nothing but a good time!
John Bruhnke, the front man and founder of SonicSoul, believes in surrounding himself with musicians who are as passionate as he is about creating music in the moment. SonicSoul has established itself as a premier Chicago blues rock act and headlines top-tier Chicago venues such as Buddy Guy's Legends and Rosa's Lounge.
John Bruhnke, Singer, Guitarist, and Songwriter
SonicSoul is fronted by John Bruhnke (last name rhymes with Funky!).  Bruhnke can lay down a wild, Buddy Guy inspired slow blues and the next minute launch into a classic Stevie Wonder tune to get the crowd dancing.  Having studied jazz with guitar great, Bobby Broom in the 90's and, more recently, with Robben Ford, Bruhnke continually strives to expand his playing to keep the music fresh and exciting.  Bruhnke is focused on songwriting, which he has been doing since he got his first guitar at age 9. While he enjoys playing songs people know, he is focused on bringing more of his original music forward. On the band's new release, Drivin' Down The Highway, Bruhnke emerges as a strong and expressive vocalist, which has taken some years to fully develop. At the age of 56, Bruhnke is inspired to be bringing the best of himself to the band's shows and recording projects.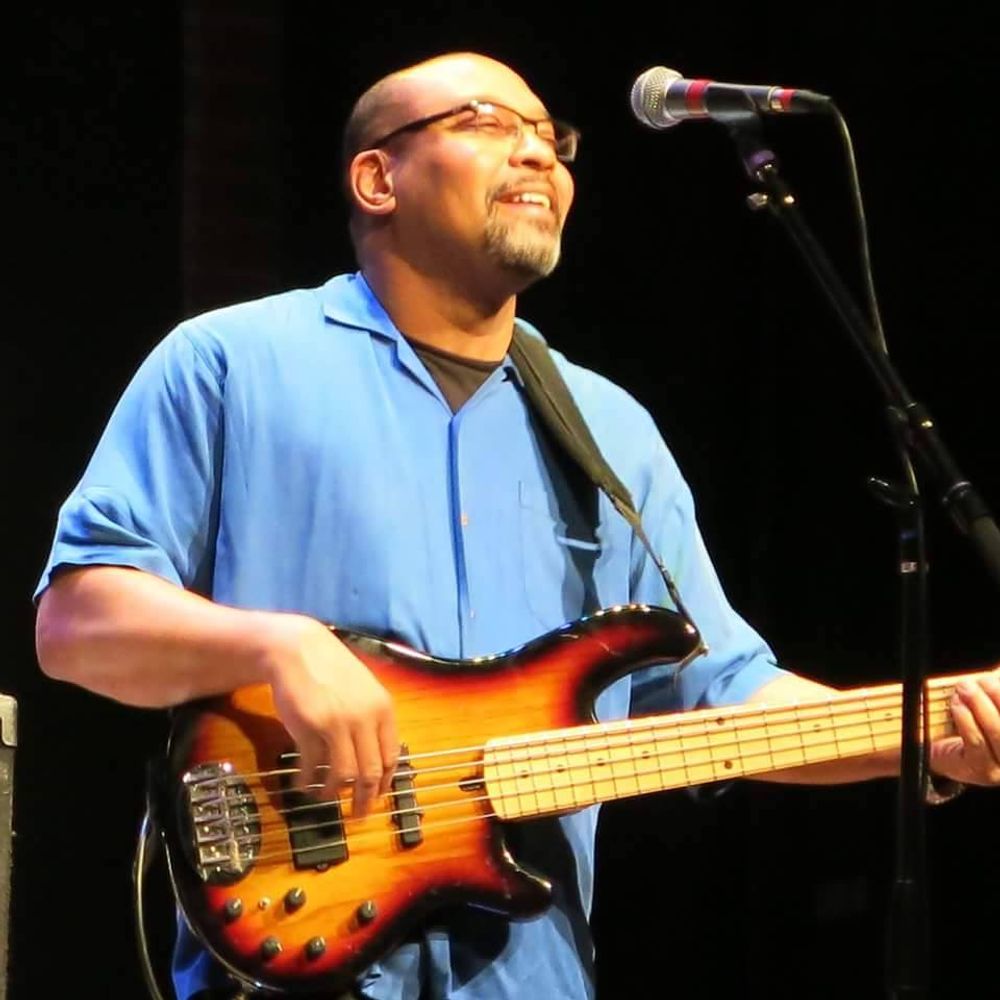 E.G. McDaniel
Bass
The bassist for SonicSoul is E.G. McDaniel.  E.G. is an inductee of the Chicago Blues Hall of Fame.  As the son of Chicago blues icon, guitarist Floyd McDaniel, and the nephew of Bo Diddley, the blues music runs deep within E.G.  E.G. has shared the stage with Junior Wells, Buddy Guy, Sonny Seals, A.C. Reed, Carl Weathersby, John Primer and countless others.  Outside of SonicSoul, E.G. continues to work with top blues artists such as Jimmy Burns and Mud Morganfield.    
Brady Williams
Drums
SonicSoul's drummer Brady Williams is regarded by Chicago musicians as one of the best drummers in the city--or anywhere for that matter!   Brady has worked with the best of the best for decades, including Koko Taylor, Eddy Clearwater, Carlos Johnson, Sugar Blue, Junior Wells and many more. 
Brady played his first paying professional gig at the age of 12.  Outside of SonicSoul, Brady maintains a busy schedule working with the top talent in Chicago.
John started learning guitar at the age of 9 and has played professionally since he was old enough to get into bars.  His first gigs were on the streets of Chicago before he was hired by LV Banks (pic below) to work six nights a week in south side Chicago clubs.  It was in these clubs that Bruhnke honed his guitar style, performing for an older clientele that knew blues music and wanted to hear it done right.   Bruhnke was next hired by The Professor Eddie Lusk who gave him his first opportunity to play Chicago's north side blues clubs, headline the Chicago Bluesfest and go on the road.   
Bruhnke Steps Out Front as Band Leader In the Early 1990's